High Speed Coil Nail Making Machine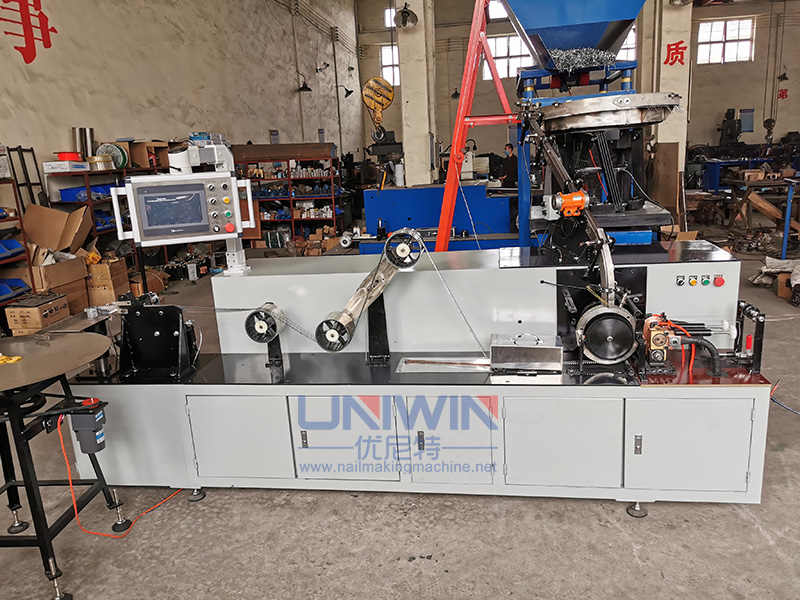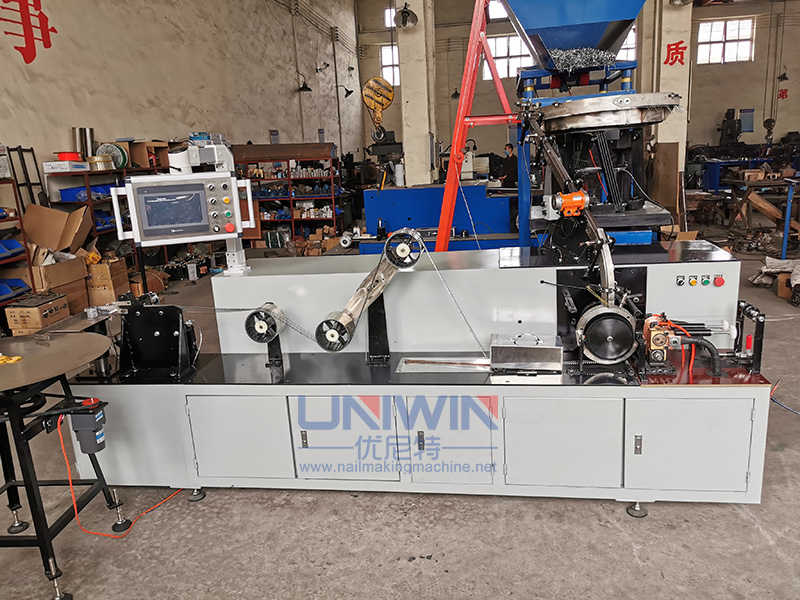 Automatic Rubber Band Wrapping Coil Nail Welding Machine
The device is controlled by the core of Japan,s Omron programmable logic controller, and Taiwan Wei Lun Tongs touch display, the device adopts uniform brands, such as long life potentiometer TOCOS Japan, Korea Horta Knicks sensors, Taiwan OPG small motor reducer, Yan Ling relays, isolated regulator, effectively guarantee product quality Division I roll nails long trouble-free operation.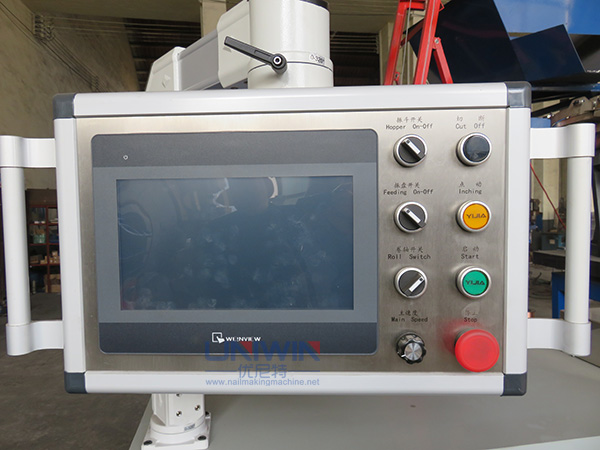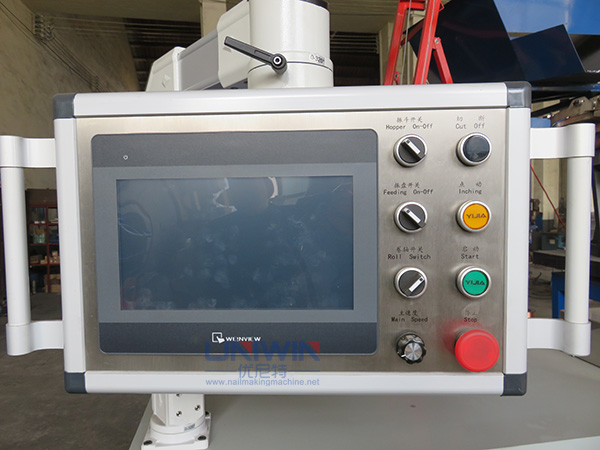 Rational work organization, product maturity. Lack of material in the system, missing nails, counting, cutting materials such as automatic detection process, the operation of the entire system is accurate, reliable, stable quality and durability.
Features: Welding power as a core component of coil nail machine, the device is equipped with adjustable 20000-40000 Hz frequency welding power source, due to the nature of the high-frequency welding, and every single nail welding waveform at least 10 complete, reliable guaranteed volumes tack welding quality, reduce the external adjustment requirements; while welding transformer using new nano-magnetic amorphous smaller, less heat loss, under the same working conditions welding saving more than 30%.
Thick stainless steel to increase elbow structure, reduce under nails Caton phenomenon is more durable. Rail can be raised structure, easy to remove staples.
Process: The nails into vibration bowl plate, vibration plate from the nail will be scattered by the order entered by cutting the track wheel and two copper welding wire welded wire nails, rust and oil-soaked by automatic drying and counting mechanism automatically roll into a disk installed, according to the number of branches per volume setting automatically cut by the operator can be packaged into the box after finished with a rubber band fixed.
| | |
| --- | --- |
| Model | JD-100 |
| Max nail length | 100mm |
| Max speed | 3000 |
| Monimal power | 20Kw |
| Working consumption | 5Kw |
| Dimensions | 2700*900*1200mm |
| Feeder size | 800*800*1800mm |
| Feeding dipper | 800*1800*2300 |
| Weight | 1300kg |
Model Description: JD-100 can be done within 100mm nails long nails, other models have JD-130, JD-160.
Device Speed: 50 Long nails done in 2800 pcs / min or more, the greater the slower nails, the smaller the faster.
Welding speed: 3000 pcs / min, welding speed completely over the nail feed rate, does not appear old welder weld at high speed, Weld phenomenon.
Device power consumption: Average power consumption 3-5Kw, nail size with speed equipment, welding current, wire diameter, and other related.
Feeding car:if you need it, the price is USD 400 (including motor, electric control).
Equipment List: coil nail machine host, feeders, hopper, equipment comes round a nail mold Cheng (size can be customized), welding spare wheel, 94,115 counting wheel (typically 38mm long with 94,115 or less to do with nails ), 2 sets of nails round dial, two sets of coil nail heads and so on. Spare proximity switches, photoelectric switches, relays, and insurance.
Warranty: whole year warranty, welder two-year warranty. (General manufacturers warranty is only half year.
Process to make coil nails:
6.5 wire rods- Wire drawing by wire drawing machine- nail making by machine for making nails– nail shank threading by thread rolling machine- nail collating by coil nail collating machine- coil nails packing.
End products: