Introduction:
Automatic coil nail-making machine with rubber band wrapping system is the advanced type for welding the wire nails into coils. It is the new design machine to make welded coil nails.
Working Process of the auto rubber banding coil nail making machine:
The auto rubber banding system coil nail collators automatically form and band the coil nail rolls with rubber bands, and then release and push the finished coil nail rolls to the finished product platform. For the previous model, the worker had to catch the coil nails roll by hand in time. Otherwise it will be broken and deformed, now this process is removed, which significantly reduces the work intensity of workers and the requirements for workers' skills and proficiency, and improves production efficiency.
Parameters of the coil nail collator :
Model:AJD-100
Max nail length: 100 mm
Max speed: 3000 pcs/min
Max power: 20 kw
Working power: 5 kw
Dimensions: 2700*900*1200 mm
Weight:1300 kg
Servo Cutting System
Features of the automatic coil nail making machine:
1, Improved finished product platform.
the platform can store about 100 finished product roll nails, and the direction of the platform can be adjusted.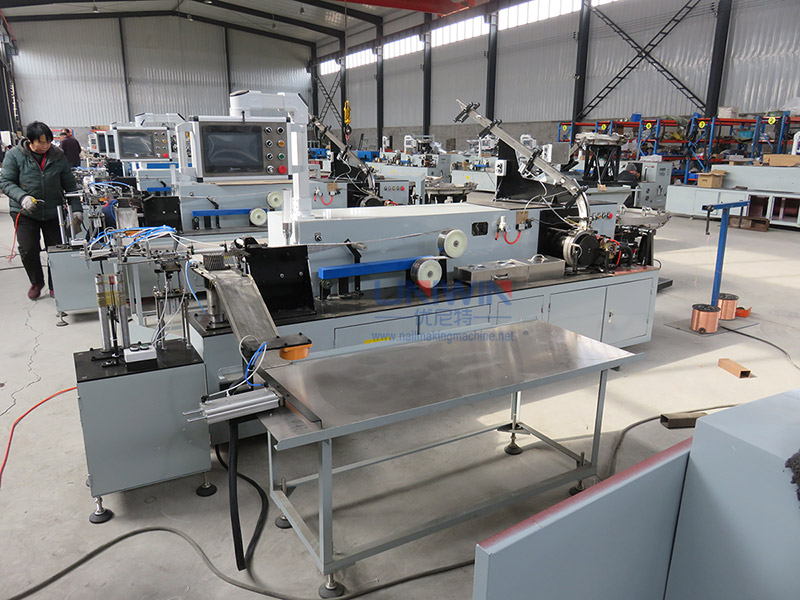 2, Servo control cutting system:
Mature coil nail roll cutting technology, the probability of not cutting off welding wire after simple debugging is less than 1/10 of that of ordinary models, which greatly reduce the waste products rate.
The cutoff system of the coil nail collator, from the original counter design, changed to servo control, so that there would be no delay in the cutoff. Also the counting of nails would be very accurate; for example, if you set 300 nails per coil, then the quantity will be exactly 300 nails.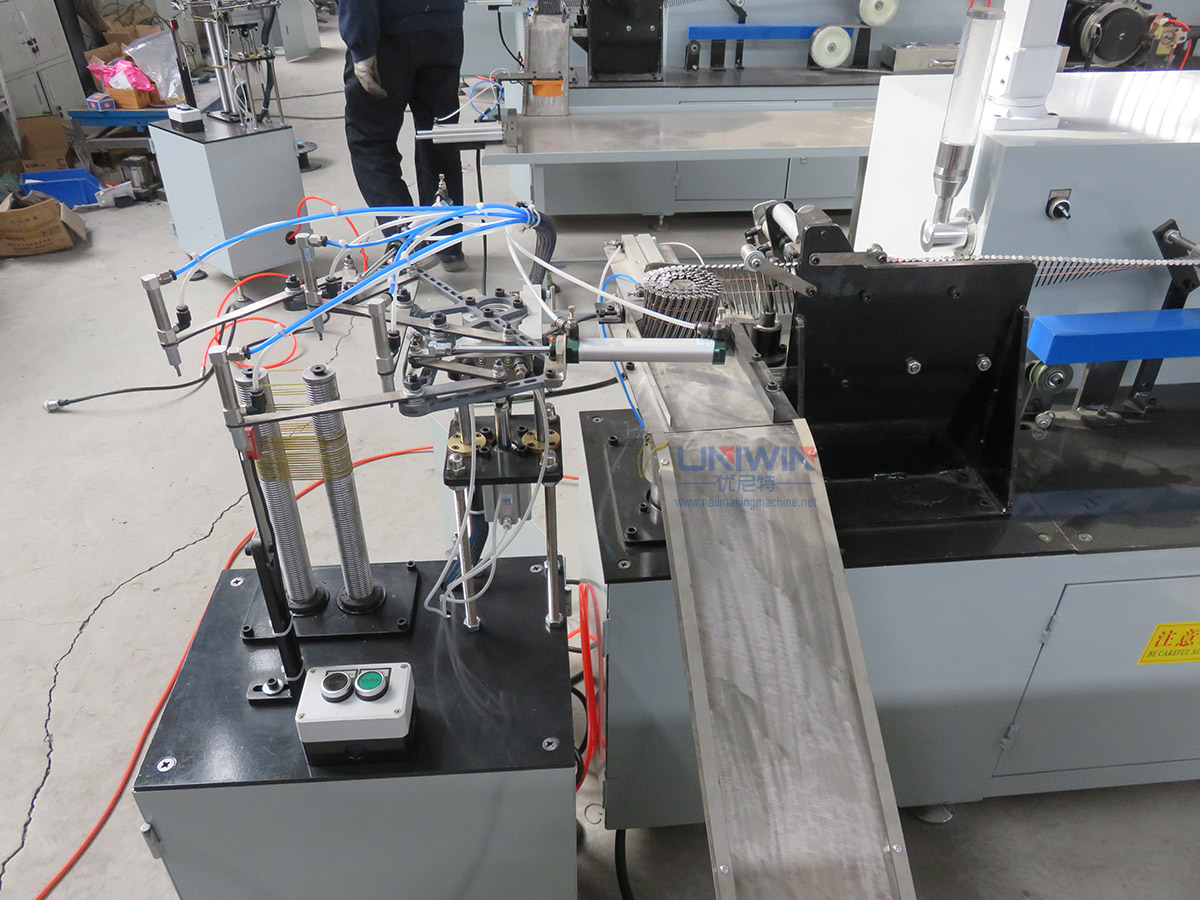 3, PLC and touch screen remote control:
We can add wifi module for the PLC and the touch screen, so when if there is a problem of the screen or PLC, we can solve the problem for you from China by remote control.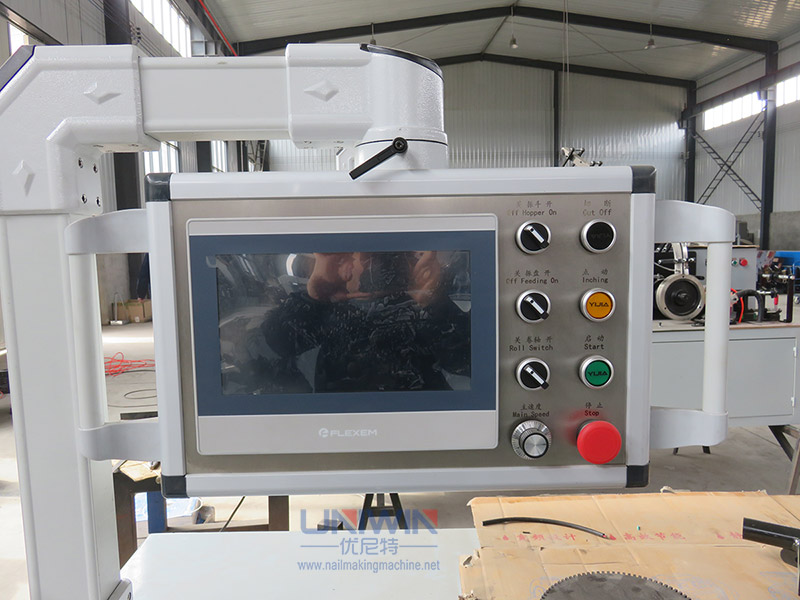 4, Perfect the automatic operation:
Add the protection of welding wire used up or burnt out, the protection of coil nail finished products not cut off, and the protection of automatic rubber banding system used up.
The errors will be displayed on the touch screen.
5, PLC equipment advantage:
OMRON PLC automatic control is stable and reliable. The human-machine interface of the VIRON touchscreen can adjust the working parameters and has a complete automatic display function of fault stop.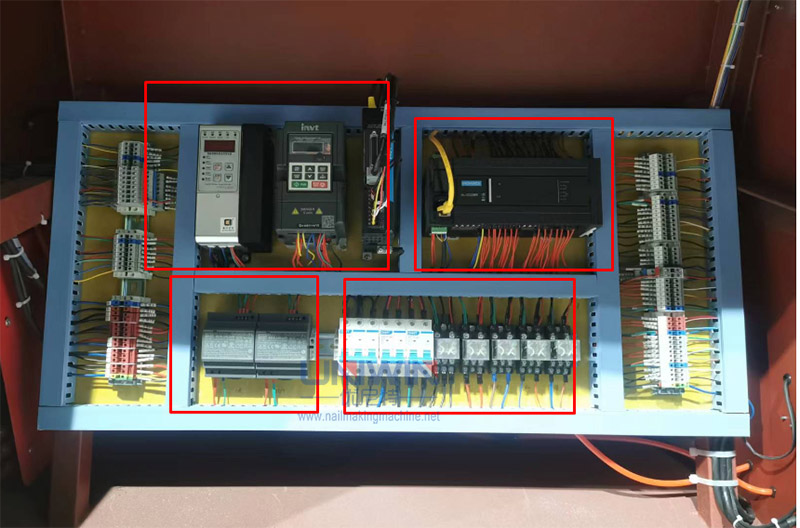 6, Vibrating bowel advantage:
850mm diameter, 380v power supply, self-weight 380KG, side-pull double electromagnet with six groups of 15-degree vibrating plates, large diameter, fast speed, slight nail bounce, good stability in long-term use, can directly make large nails.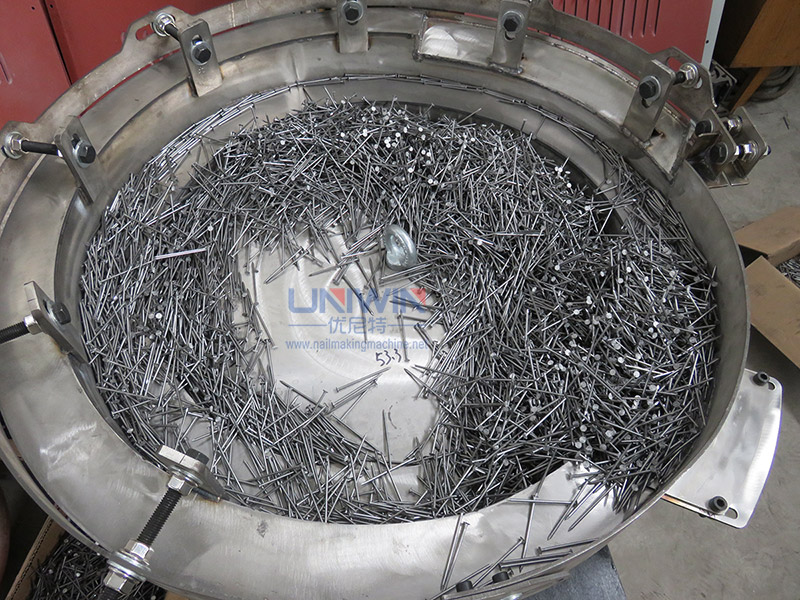 7, High-frequency welding machine equipment advantage:
Our company's independently developed and manufactured high-frequency welding machine is mature and stable in technology, with an automatic voltage stabilization function and independent touch screen human-computer interaction.
Many customers replaced our high-frequency welding machine power supply for their old Coil nail collating machine. Our welding machine equipment owns good reputation in the market.
Type of coil nails our coil nail collating machine can make:
Smooth shank coil nails
Ring shank coil nails
Screw shank coil nails
In shape:
Small cap coil nails
Big cap clout coil nails
Jumbo coil nails
Conical coil nails
Coil nails are a fastener popular for many construction projects, such as roofing and siding. They are available in various lengths and head styles and offer the advantages of being cost-effective and durable. When used correctly, they can improve the longevity of any construction project.