Another successful case feedback from our Africa customers!
The whole process of nails making:
Wire drawing — nails making — nails polishing — nails packaging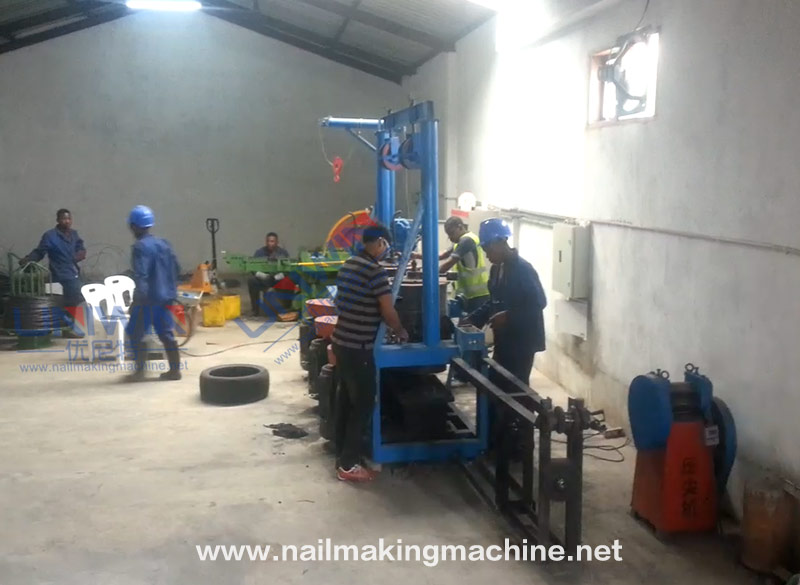 For the Raw material, Q195/SEA1008/Q235/SAE1006 is the most common used wire, usually the original wire diameter in the market is 6.5 mm or 5.5 mm,
Firstly, draw the 6.5mm/5.5mm wire into different smaller size by using wire drawing machine.
Secondly, feed the already drawn wire such as 4.1mm 3.4mm,2.8mm etc into nails making machine directly.
Thirdly, Polish the nails to remove the thron and dust to make it more bright with black.
Lastly, pack the nails into cartons.
In August, 2017, Customer Suhail searched for nail making machine and found Uniwin nail making machine, he did some market researches and find 1-6 inch nails business is profitable in Mozambique. However, to make 1-6 inch nails, it needs 3 sets of nail making machine, because to make different nails, it is designed for different nail length. For example:
2c is designed for 1-2 inch nails. speed 340pcs/min
3c is designed for 1-3 inch nails , speed 320 pcs/min
4c is designed for 2-4 inch nails, speed 240 pcs/min
5c is designed for 4-6 inch nails, speed 200 pcs/min
However, in the beginning, he din't have that much money, he choosed one set of z94-5c for 3-6 inch nails, and one set of 3 drums wire drawing machine and its accessory machine and spare parts for the start.
Now the whole production is running very well in Mozambique, customer Suhail is very satisfied our nail making machine and wire drawing machine. Now his nails business is becoming bigger and bigger, one machine cannot meet the big requirement in market. Last month, he ordered again one set of z94-4c and one set of z94-3c.
Uniwin nail making machine will surely provide the best quality with best price to our customer. Choose us, choose the nail making expert, your business will be successful.