What is the nail making machine price in Bangladesh?
Nail making machine price in Bangladesh ranges from USD 2000 to 7000 per set, and the price in Bangladeshi Taka is BDT 6,062,000-21,217,000/set with five models: Z94-1C, Z94-2C, Z94-3C, Z94-4C, and Z94-5C nail making machine.
Wire drawing machine uses wire drawing dies to reduce the wire diameter, and the price in Bangladeshi Taka is BDT 6,062,000-9,093,000/set.
Nail polishing machine uses saw dust to make nails smooth and bright. SD 400 and SD 1000 nail polishing machines are commonly used, and the price in Bangladeshi Taka is BDT 3,031,000-6,062,000/set.
Nail cutter grinder is to grind the nail cutter when it becomes blunt and makes it sharp again, and the price in Bangladeshi Taka is BDT 1,818,600/set.
Bangladesh nail market introduction
There are more than 50 organized nail manufacturers in Bangladesh producing and selling common nails such as plain wire nails, galvanized nails, bright nails, concrete nails, dowel nails, roofing nails, framing nails, etc. Rapid urbanization, government infrastructure projects, the expanding real estate industry, and the retail market drive the growth of the nail market, with an annual nail consumption of around 90,000 tons. Among them, the construction industry accounts for the majority of nail demand, about 60%, and other industries include pallets, furniture, handicrafts, packaging, etc. Bangladesh's industrial development is backward, and raw materials and nail-making machines are mostly imported from China.
What is the nail making machine?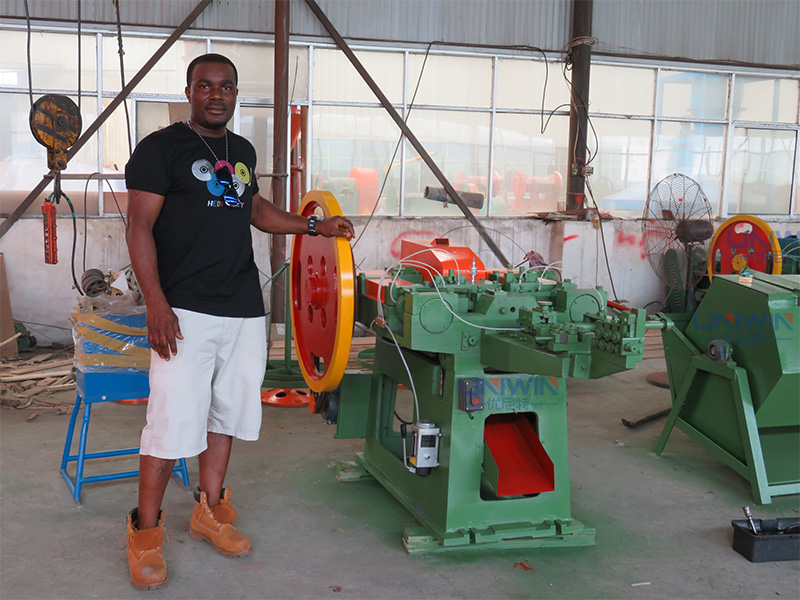 The nail making machine can efficiently produce 1-6 inch nails with different nail dies for construction, woodworking, and other industrial applications. Major components of the nail making machine include a feeding system, pin punch, nail cutter, nail mold, and collection system. The material is fed into the nail making machine through the feeding device and is extruded and cut to form various nails. The Z94-C series nail making machine is widely used nowadays and sold to many countries like Kenya, Tanzania, South Africa, Uganda, Ethiopia, Nigeria, Ghana, etc. The nails produced by these machines are widely used in construction, pallet making, fencing, packaging, and other industries, and nails have strength, uniformity, labor and cost saving.
How to import nail making machine to Bangladesh?
Importing a nail making machine to Bangladesh involves a series of procedures and regulatory compliance. Below is a general guideline for importing a nail making machine into Bangladesh:
Identify suppliers: Identify and select a reliable nail making machine supplier. Getting a detailed Proforma Invoice (PI) from the supplier is crucial, listing the machine details, price, specifications, and other necessary information.
Open a Letter of Credit (LC): Visit your bank to open an LC. The bank will ask for the Proforma Invoice and other relevant documents. An LC is a promise from the bank to pay the supplier upon the presentation of certain documents and conditions.
Arrange logistics: Hire an experienced freight forwarder to handle shipping, customs clearance and delivery of the machine to a Bangladeshi port-Chittagong Port or Dhaka River Port via sea freight.
Documentation: Prepare a commercial invoice, bill of lading, packing list, and other documents Bangladesh customs requires for the import.
Customs clearance: Submit documentation and pay import duties and taxes as applicable to clear the nail machine through customs.
Nail standards in Bangladesh
If you're interested in nail standards, BSTI would be the authority to consult. They would have detailed specifications about the quality, size, type, material, and other characteristics that nails should possess to meet national standards.
| Size/inch | Nail Length/mm | Diameter/mm | Nail Head/mm |
| --- | --- | --- | --- |
| 1.0 | 25 | 1.5 | 3.5 |
| 1.2 | 30 | 1.9 | 3.5 |
| 1.5 | 40 | 2.2 | 4.2 |
| 2.0 | 50. | 2.5 | 5.2 |
| 2.5 | 65 | 3 | 5.3 |
| 3.0 | 75 | 3 | 6 |
| 3.5 | 88 | 3.3 | 7.3 |
| 4.0 | 100 | 3.9 | 9 |
| 5.0 | 125 | 5 | 9.5 |
| 6.0 | 150 | 5 | 10.3 |
If you need a nail making machine to produce nails that meet the standards, you can contact us by Email, WhatsApp, Facebook, Twitter and LinkedIn, etc. at the bottom of this page, and we will give you professional advice.
Our customers in Bangladesh