What is the nail making machine price in Ethiopia?
Nail making machine price in Ethiopia ranges from USD 2000 to 7000 per set, and the price in Ethiopian birr is ETB 110,421-386,474/set with five models: Z94-1C, Z94-2C, Z94-3C, Z94-4C, and Z94-5C nail making machine.
Wire drawing machine uses a series of wire drawing dies to reduce the steel to the required diameter, and the price in Ethiopian birr is ETB 110,421-165,632/set.
Nail polishing machine uses saw dust to make nails smooth and bright. SD 400 and SD 1000 nail polishing machines are commonly used, and the price in Ethiopian birr is ETB 55,210-110,421/set.
Nail cutter grinder is to grind the nail cutter when it becomes blunt and makes it sharp again, and the price in Ethiopian birr is ETB 33,126/set.
Ethiopia nail market introduction
The nail market in Ethiopia is still relatively small but has been growing steadily in recent years, driven by increased construction activity and economic development. Expanding housing construction, infrastructure projects, and growth in light manufacturing are also driving demand for nails in millwork, concrete formwork, pallets, etc. Local nail production is limited to a few manufacturers producing standard wire nails, and most professional and high-quality nails continue to be imported. With the growing economy and construction industry, the demand for nails is expected to grow substantially, making it an attractive market. The market for imported nail making machines in Ethiopia is also likely to increase.
What is the nail making machine?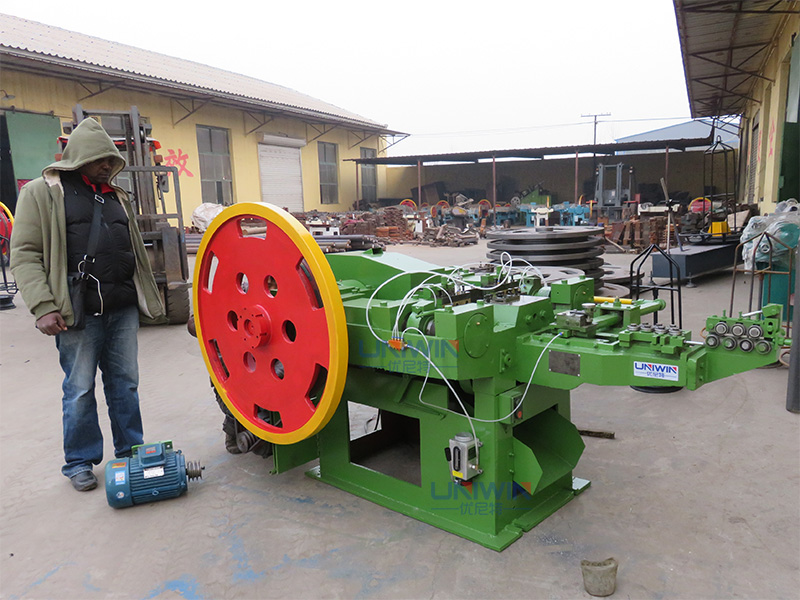 Nail making machine is a continuous nail manufacturing process, which produces 1-6 inch nails with different nail dies for construction, woodworking, and other industrial applications. The different nail molds decide the different nail diameters. Major components of the nail making machine include a feeding system, punch bar, nail cutter, nail mold, and collection system. The nail die holds the drawn wire, the punches bar punch to get the nail head, and the nail cutter makes the nail point. The Z94-C series nail making machine is widely used nowadays and sold to many countries like Kenya, Tanzania, South Africa, Uganda, Ethiopia, Nigeria, Ghana, etc. The nails produced by these machines are widely used in construction, pallet making, fencing, packaging, and other industries. Compared with hand-forged nails, machine-made nails have strength, uniformity, labor and cost saving.
How to import nail making machine to Ethiopia?
Here are some tips for importing nail making machines into Ethiopia:
Identify suppliers: Find reputable machinery manufacturers or exporters in China that can provide affordable nail making machines suitable for Ethiopia.
Select machine: Consider production capacity, speed, features, and budget when selecting the right nail making machine model to import.
Payment: After agreeing on the price and ensuring the machinery meets the required standards, arrange to use LC for payment and decide on the shipping mode.
Shipping: Choose a reputable shipping or freight forwarder to transport the nail making machine to the port of Ethiopia-Djibouti. Ensure to obtain a commercial invoice, packing list, bill of lading, certificate of origin, and other related paperwork. Coordinate with the supplier and your freight forwarder about shipping details to determine who's responsible for the cost and risk at each shipment stage.
Customs clearance: Once the machine arrives at Djibouti port, the customs broker will help clear it through customs. And after all duties and taxes are paid and the documentation is in order, customs will release the machine.
Nail standards in Ethiopia
If you want to know about the relevant standards in the field of nail manufacturing in Ethiopia, please visit their official website or contact them directly. The ESA nail standard ensures nail quality, strength and performance for critical construction applications in the Ethiopian construction industry. Locally manufactured or imported nails must obtain ESA certification to confirm that they meet the standards before being sold in the Ethiopian market. If you want to know whether our factory nail-making machine's nail size range complies with local standards, don't hesitate to get in touch with us.
| Size | Length | Nail Diameter | Weight | Head Diameter |
| --- | --- | --- | --- | --- |
| 0.5 inch | 15mm | 2.0mm | 0.29g | 3mm |
| 0.8 inch | 21mm | 2.0mm | 0.39g | 3mm |
| 1.0 inch | 25mm | 2.0mm | 0.45g | 3.5mm |
| 1.2 inch | 30mm | 2.0mm | 0.81g | 4.5mm |
| 1.5 inch | 37mm | 2.2mm | 1.23g | 5mm |
| 2.0 inch | 50mm | 2.5mm | 1.64g | 5mm |
| 2.5 inch | 63mm | 3mm | 3.9g | 6.5mm |
| 3.0 inch | 76mm | 3mm | 4.5g | 7mm |
| 3.5 inch | 91mm | 3.3mm | 6.3g | 7mm |
| 4.0 inch | 100mm | 4mm | 10.57g | 8mm |
| 5.0 inch | 124mm | 5mm | 20.1g | 10mm |
| 6.0 inch | 153mm | 6mm | 23.37g | 10mm |
Our customers in Ethiopia