What is the nail making machine price in Saudi Arabia?
Nail making machine price in Saudi Arabia ranges from USD 2000 to 7000 per set, and the price in Saudi Riyal is SAR 7,503-26,260/set with five models: Z94-1C, Z94-2C, Z94-3C, Z94-4C, and Z94-5C nail making machine.
Wire drawing machine uses wire drawing dies to reduce the wire diameter, and the price in Saudi Riyal is SAR 7,503-11,254/set.
Nail polishing machine uses saw dust to make nails smooth and bright. SD 400 and SD 1000 nail polishing machines are commonly used, and the price in Saudi Riyal is SAR 3,751-7,503/set.
Nail cutter grinder grinds the nail cutter when it becomes blunt and makes it sharp again, and the price in Saudi Riyal is SAR 2,250/set.
Saudi Arabia nail market introduction
Government infrastructure projects, growth in the real estate sector and rapid urbanization are the main demand drivers for Nails. The nail market in Saudi Arabia is estimated at around SAR 550 million and consumes around 45,000 tons of nails per year. The common nails produced and sold are wire nails, galvanized nails, ring shank nails, screw nails, and concrete nails supplied for the construction industry, furniture and pallet manufacturing. The main nail sales channels are building material retailers, hardware stores, and construction equipment distributors. Despite import competition, Saudi Arabia's mature construction industry provides a stable market for domestic nail manufacturers.
What is the nail making machine?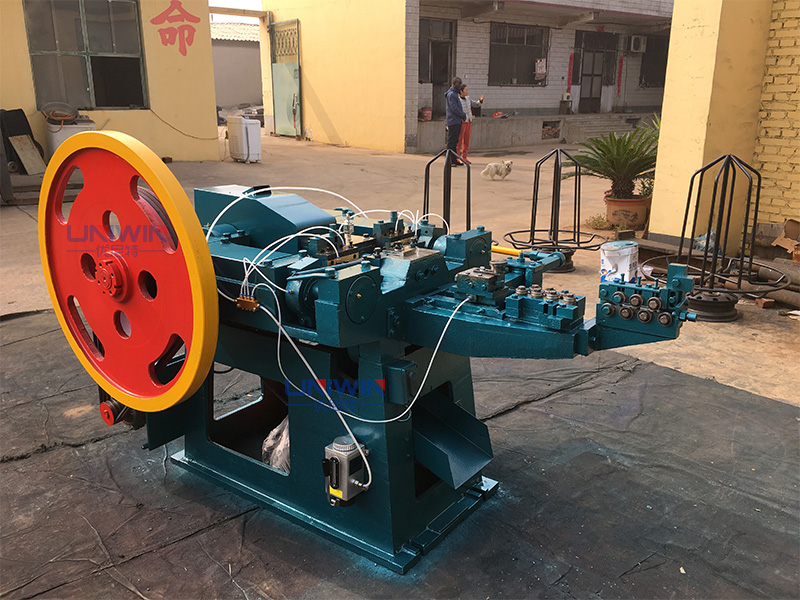 Nail making machine is a specialized machine used for producing 1-6 inch nails, typically made of steel wire, for various construction, carpentry purposes and other industrial applications. Major components of the nail making machine include a feeding system, pin punch, nail cutter, nail mold, and collection system. The Z94-C series nail making machine is widely used nowadays and sold to many countries like Kenya, Tanzania, South Africa, Uganda, Ethiopia, Nigeria, Ghana, etc. And the main advantages are a very mature technology, stable working, easy operation, low noise, and cheap running cost. This machine greatly increases production speed and reduces the cost of nail making. The nails produced by these machines are widely used in construction, pallet making, fencing, packaging, and other industries, and nails have strength, uniformity, labor and cost saving.
How to import nail making machine to Saudi Arabia?
Here are some tips for importing nail making machines into Saudi Arabia:
Identify suppliers: Research and find reputable machinery manufacturers in China.
Select machine: Consider production capacity, speed, features, and budget when selecting the right nail making machine model to import.
Import regulations: Check Saudi import rules and regulations for industrial equipment. Confirm the Harmonized System (HS) code for the machine, which will determine the customs duties and taxes.
Documentation: Prepare a commercial invoice, certificate of origin, packing list, and bill of Lading.
Shipping: Hire an experienced freight forwarder to ship and deliver the machinery to the nearest Saudi Arabia port-Jeddah Port, Dammam Port, and Riyadh Port via sea freight.
Customs clearance: Submit documents to Saudi customs and pay applicable import duties and taxes to clear the nail making machine.
Nail standards in Saudi Arabia
Saudi Arabia generally refers to international standards for nails and similar building materials but may also have national codes. The institution responsible for developing standards in Saudi Arabia is the Saudi Standards, Metrology and Quality Organization (SASO), including nails sold in Saudi Arabia. If you want to know the Saudi nail standard, you can check it on the Saudi official website. Locally manufactured or imported nails require SASO certification and may carry the SASO logo after compliance testing. The SASO nail quality standard ensures the strength, durability and performance of nails used in demanding construction applications across Saudi Arabia. Our nail making machines meet the above standards. If you are interested, please get in touch with us by email, WhatsApp, Facebook, Twitter or LinkedIn.
Our customers in Saudi Arabia