What is the nail making machine price in India?
Nail making machine price in India ranges from USD 2000 to 7000 per set, and the price in Indian rupee is INR 165,234-578,319/set with five models: Z94-1C, Z94-2C, Z94-3C, Z94-4C, and Z94-5C nail making machine.
Wire drawing machine uses wire drawing dies to reduce the wire diameter, and the price in Indian rupee is INR 165,234-247,851/set.
Nail polishing machine uses saw dust to make nails smooth and bright. SD 400 and SD 1000 nail polishing machines are commonly used, and the price in Indian rupee is INR 82,617-165,234/set.
Nail cutter grinder is to grind the nail cutter when it becomes blunt and makes it sharp again, and the price in Indian rupee is INR 49,570/set.
India nail market introduction
With the rapid development of infrastructure, housing and real estate in India, the demand for construction materials, including nails, has increased. The domestic nail market in India is estimated to be around INR 5,000 crore. Total annual nail production is approximately 1.2 million tons. Common nails include low-carbon steel wire nails, high-carbon steel nails, galvanized nails, coated nails, roofing nails, concrete nails, etc. Hardware stores, building material retailers, and wholesale suppliers form a distribution network across India, and a small number of nails are also exported from India to the Middle East, Africa, and neighboring countries.
What is the nail making machine?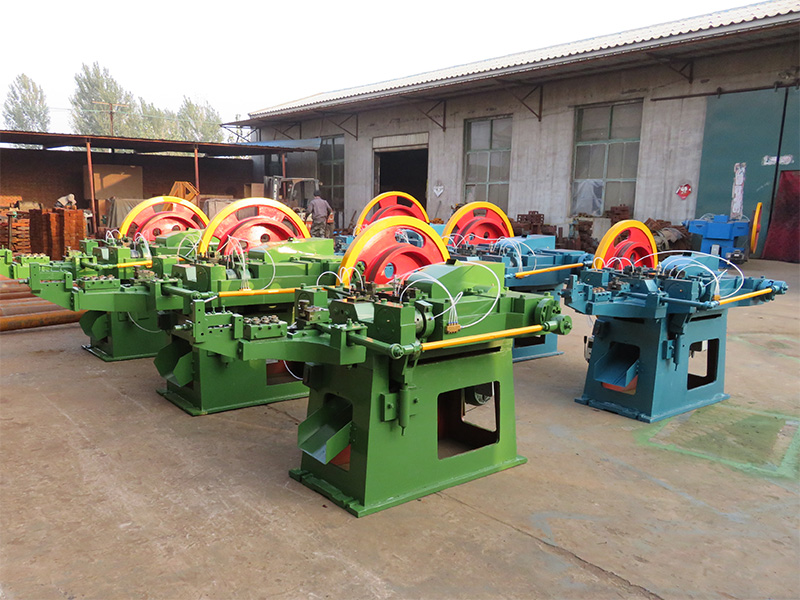 The nail making machine can efficiently produce 1-6 inch nails with different nail dies. Major components of the nail making machine include a feeding system, pin punch, nail cutter, nail mold, and collection system. The working principle is to feed the steel wire into a nail making machine and form nails through a series of processes, such as straightening, heading, cutting, and pointing. The Z94-C series nail making machine is widely used and sold in many countries like Kenya, India, South Africa, Uganda, Ethiopia, Nigeria, Ghana, etc. And the main advantages are a very mature technology, stable working, easy operation, low noise, and cheap running cost. The nails produced by the machine are widely used in construction, pallet making, fencing, packaging, and other industries.
How to import nail making machine to India?
Here's a general step-by-step process to import a nail making machine into India:
Identify suppliers: Find reputable machinery manufacturers in China that can provide affordable nail making machines suitable for India. It's beneficial to visit the supplier's facility.
Select machine: Consider production capacity, speed, features, and budget when selecting the right nail making machine model to import.
Arrange logistics: Hire an experienced freight forwarder to handle shipping and delivery of the machine to an Indian port – New Delhi Port, Mumbai Port, Kolkata Port, Chennai Port, Hyderabad Port, or Bangalore Port via sea freight. A forwarding agent will facilitate the import process, including handling documentation, customs clearance, and transportation within India.
Documentation: Essential documents generally include a purchase order, bill of lading, packing list, commercial invoice, certificate of origin, and other documents required for the product.
Customs clearance: With the help of your clearing agent, complete all customs formalities and clear the nail machine from the port.
Nail standards in India
In India, standards for various products and services are primarily determined and outlined by the Bureau of Indian Standards (BIS). BIS is the national agency responsible for coordinating, publishing and implementing Indian standards. BTS has specific standards for nails detailing dimensions, material quality, manufacturing process, and testing methods. It may be helpful to communicate directly with BIS or consult with an expert familiar with BIS standards to understand the applicability of a standard to a specific type of nail or application. Our nail making machines can produce nails that meet Indian nail making standards. If interested, don't hesitate to contact us via email, WhatsApp, Facebook, Twitter or LinkedIn.
Our customers in India