What is the nail making machine price in South Africa?
Nail making machine price in South Africa ranges from USD 2000 to 7000 per set, and the price in South African rand is ZAR 37,400-130,900/set with five models: Z94-1C, Z94-2C, Z94-3C, Z94-4C, and Z94-5C nail making machine.
Wire drawing machine uses wire drawing dies to reduce the wire diameter, and the price in South African rand is ZAR 37,400-56,100/set.
Nail polishing machine uses saw dust to make nails smooth and bright. SD 400 and SD 1000 nail polishing machines are commonly used, and the price in South African rand is ZAR 18,700-37,400/set.
Nail cutter grinder is to grind the nail cutter when it becomes blunt and makes it sharp again, and the price in South African rand is ZAR 11,220/set.
South Africa nail market introduction
South Africa is one of the most economically developed countries in Africa. The needs of infrastructure construction, manufacturing scale expansion, agricultural and rural development, repair and maintenance, etc., will generate a large demand for nails, and the market can reach hundreds of millions of dollars per year. However, due to the weakness of local related industries, more than 40% of machinery and construction nails need to be imported from China, which in turn increases the import of nail making machines to South Africa.
What is the nail making machine?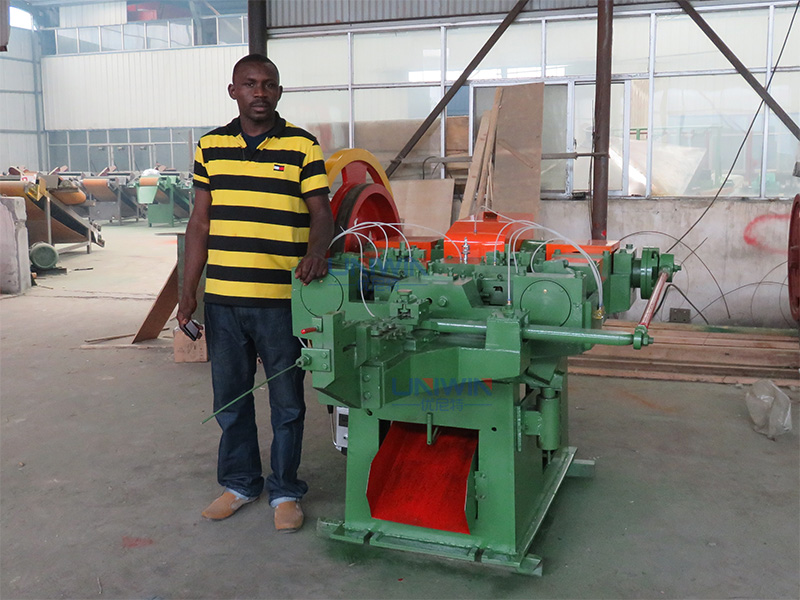 The nail making machine is an automatic machinery to produce 1-6 inch nails with different nail dies for construction, woodworking, and other industrial applications. The different nail molds decide the different nail diameters. And Z94-C series nail making machine is widely used nowadays and sold to many countries like Kenya, Tanzania, South Africa, Uganda, Ethiopia, Nigeria, Ghana, etc. The function of the nail making machine is to cut the steel wire into nails and make nail heads with a punch bar. Major components of the nail making machine include a feeding system, punch bar, nail cutter, nail mold, and collection system. The nails produced by these machines are widely used in construction, pallet making, fencing, packaging, and other industries. Compared with hand-forged nails, machine-made nails have strength, uniformity, labor and cost saving.
How to import nail making machine to South Africa?
Here's a generalized step-by-step guide to importing a nail making machine into South Africa:
Identify suppliers: Research and find reputable machinery manufacturers or exporters in China.
Select machine: Consider production capacity, speed, features, and budget when selecting the right nail making machine model to import.
Payment and Shipping: After agreeing on the price and ensuring the machinery meets the required standards, arrange payment and decide on the shipping mode. Choose a reputable shipping or freight forwarder to transport the nail making machine to one port of South Africa like Elizabeth, Durban and Cape Town, etc. Ensure to obtain a Bill of Lading or Airway Bill, Packing List, and any other documents the shipping company or South African authorities might require.
Customs Declaration: Once the machine arrives in South Africa, it needs to be declared to customs. The clearing agent or freight forwarder typically assists with this process, which involves filling out a customs declaration form and providing the required documentation.
Customs clearance: Once all duties and taxes are paid and the documentation is in order, customs will release the machine. You can then arrange for delivery to your desired location within South Africa.
Nail standards in South Africa
Like many other countries, South Africa adopts and follows various standards related to construction, infrastructure and other industries. These standards may include details about nails and other fasteners. The South African Bureau of Standards (SABS) is responsible for developing and publishing standards in the country. You can contact us if you want to know whether our machine can produce nails that meet the criteria.
| Size | Length | Diameter | Size | Length | Diameter |
| --- | --- | --- | --- | --- | --- |
| 0.5 inch | 15mm | 1.6mm | 3.0 inch | 75mm | 3.2mm |
| 0.8 inch | 20mm | 1.6mm | 3.5 inch | 88mm | 3.5mm |
| 1.0 inch | 27mm | 2.0mm | 4.0 inch | 101mm | 4.0mm |
| 1.2 inch | 30mm | 2.0mm | 5.0 inch | 128mm | 5.0mm |
| 1.5 inch | 40mm | 2.2mm | 6.0 inch | 151mm | 5.5mm |
| 2.0 inch | 50mm | 2.45mm | 7.0 inch | 176mm | 5.7mm |
| 2.5 inch | 63mm | 3.0mm | 8.0 inch | 200mm | 5.7mm |
Our customers in South Africa