High speed thread rolling machine for coil nails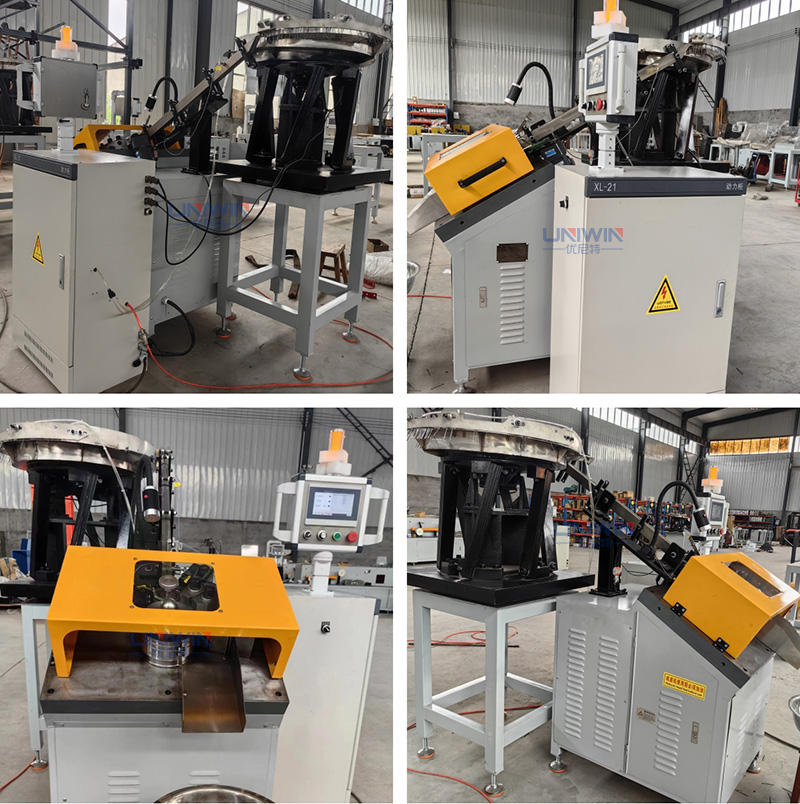 The high speed thread rolling machine uses a cold rolling process to form threads or rings on the wire nail shank with a speed of 2400-3000 pcs/min. Compared with traditional thread-cutting methods, this machine can produce high-quality threads with excellent dimensional accuracy and surface finish at significantly faster speeds and reduce material waste and thread rolling dies costs.
This high-speed thread rolling machine is specially designed to meet the requirements of coil nail production. It is equipped with a vibration plate, thread rolling die, sensors, switch, relay, and other necessary parts. The machine plays a vital role in the coil nail production line due to its advantages, such as high-speed operation, precise thread forming, and the ability to produce different thread types by changing the forming dies.
Types of thread rolling machine
Planetary thread rolling machine
Flat die thread rolling machine
Two or three dies cylindrical thread rolling machine
Uniwin brand high speed or common thread rolling machine generally adopts the planetary thread rolling die to make screw or ring shanks. We absorb the advantages of similar products at home and abroad and greatly improve thread rolling process, ensuring thread-rolling accuracy and speed. These machines have a good reputation and are widely sold to many countries, such as Turkey, America, Ethiopia, Saudi Arabia, Kenya, etc.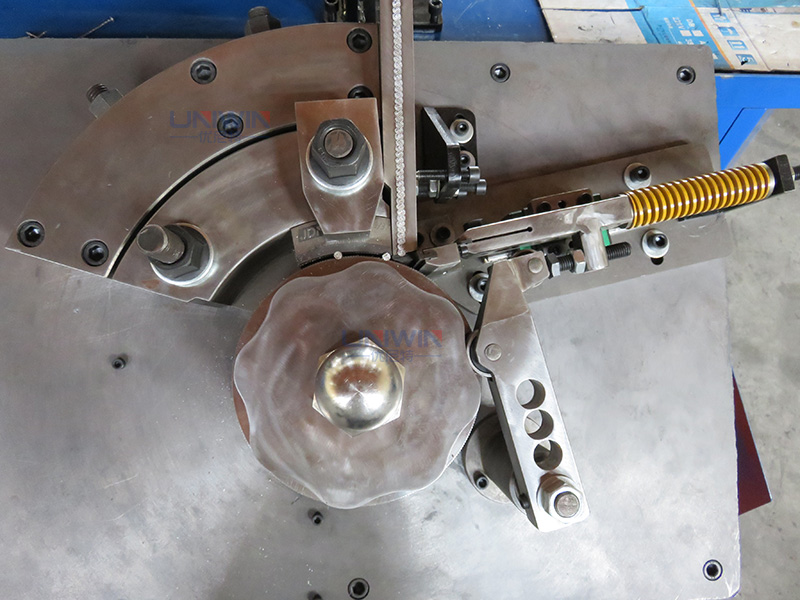 Selection of suitable thread rolling die
When selecting the suitable thread rolling die for the thread rolling machine, there are three key parameters to consider:
Welding Point: The standard welding point positions vary based on the nail length, ranging from 8-19mm for nail lengths of 25-38mm and 19-37mm for nail lengths of 45-100mm.
Nail Diameter: The nail diameter should fall within the applicable range of the chosen mold. The mold's diameter tolerance is typically within plus or minus 10% of the suitable range.
Texture Shape: The thread texture can be a screw or ring thread.
High speed thread rolling machine specification
| Model | AGS-80 |
| --- | --- |
| Length Range | 25-100mm |
| Rolling Tread Diameter | 1.8-3.2/1.8-4.2mm |
| Production Efficiency | 2400- 3000pcs/min |
| Main Motor Power | 5.5/7.5kw |
| Total Power | 7.5/9.5kw |
| Machine Dimensions | 1200*1200*1400mm |
| Machine Weight | 1400kg |
Finished products
Features and advantages of high speed thread roller
High Efficiency: The machine can operate at high speeds, typically from 1200 to 3000 pieces per minute. Its automatic feeding system ensures a continuous supply of fasteners, further enhancing efficiency.
Operator-Friendly: High-speed thread rolling machines feature user-friendly interfaces that are easy to understand and operate, reducing the learning curve for operators.
Strong and Accurate: The machine is built with strong and durable materials to withstand the high forces and vibrations generated during the thread rolling process. It can deliver precise and accurate threads compared to traditional thread methods, meeting industry standards and ensuring reliable connections.
Versatility: High-speed thread rolling machines can accommodate various thread sizes and types by changing the thread rolling molds or dies.
Factors to consider in thread rolling
Thread Rolling Speed: The rolling speed required depends on the material being rolled. Low rolling speeds are typically required for hard materials, while high speeds are suitable for soft and ductile materials.
Material Requirements: Harder materials may crack during the process, while softer materials might not hold the thread form accurately. Some materials, like mild steel or aluminum, are pretty ductile and roll easily. Others, like high-carbon or stainless steel, are harder and require more force to roll.
Thread Geometry: The thread form, pitch, and lead angle all impact the rolling process. Fine threads and threads with a high helix angle require more rolling force than coarse threads or threads with a low helix angle.
High speed thread rolling machine price
High speed thread rolling machine price is USD 7000-9000.
High speed thread rolling machine price in India
High speed thread rolling machine price in India is INR 582,890-749,430.