What is the vinyl coating for coil nails?
Vinyl coating for coil nails is a kind of paint covered on coil nails, which plays the role of anti-corrosion and anti-rust and gives extra holding strength when driven into wood materials. And the uniformity of the paint directly impacts the effects of lubrication, fastening and rust prevention. There are many colors of coil nail paint, which has an excellent decorative effect and provides an appealing look in some applications, such as construction, decoration, furniture, wood, packaging, automobiles and other industries.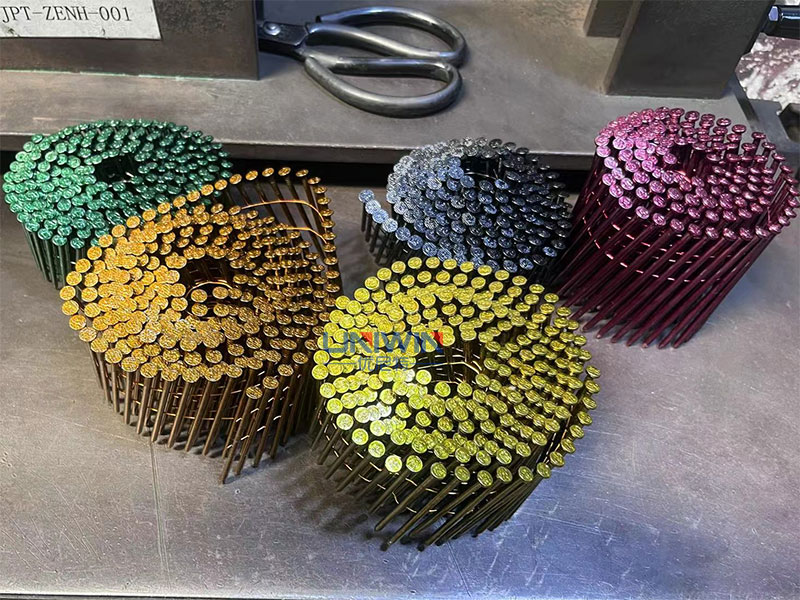 The Composition of Vinyl Coating:
| No. | Ingredient | Weight |
| --- | --- | --- |
| 1 | Methylal | 10 kg |
| 2 | Ethyl Fat/Ethyl Ester | 2 kg |
| 3 | Methanol | 10 kg |
| 4 | Anti-White Water /Ethylene Glycol Monobutyl Ether | 10 kg |
| 5 | NC Nitro Clear Primer /NC Nitro Transparent Primer | 10 kg |
| 6 | Golden Yellow Color | 2 kg |
What are the purpose of the vinyl coated coil nails?
Aesthetics. Colored paint makes coil nails look more appealing than bare coil nails. Popular colors include red, yellow, blue and green, which blend beautifully with various wood materials.
Corrosion Resistance. Vinyl coating provides a protective barrier against rust and corrosion. Coil nails without surface treatment will corrode when exposed to moisture.
Holding Strength. Vinyl coating coil nails provide extra grip and holding force when hammered into wood materials. And the paint bonds to the wood fibers for increased holding strength.
Where to buy the vinyl coating?
If you want more specific information or want to buy the vinyl coating for coil nails, our company, Zhengzhou Uniwin Machinery Equipment Co., Ltd., has this paint. You can contact us by phone or email.
What is the price of the vinyl coating?
The price of the vinyl coating is about USD 1500.