2-25kg nail weighing packing machine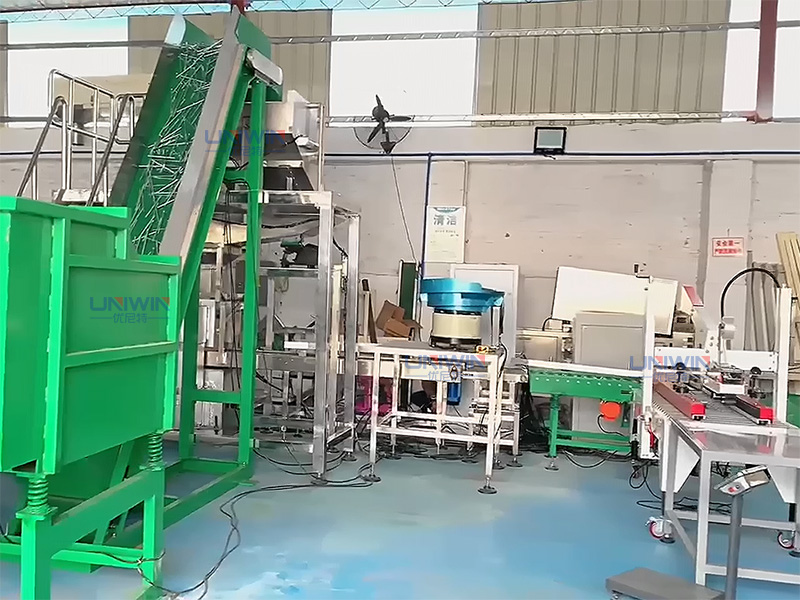 The 2-25kg nail weighing packing machine is a specialized machine used in the packaging industry to automate the process of weighing and packing nails into cartons. The device can significantly increase the speed and efficiency of the packaging process, reduce labor costs, and improve the consistency and quality of the final product. The nails weighing and packing machine is designed to efficiently handle and package nails of various sizes and lengths.
2-25kg nail weighing packing machine parameter
| Item | Specification |
| --- | --- |
| Brand | Uniwin |
| Model | UN-320T3 |
| Speed | 2-10 cartons/min |
| Applicable Nail Length | 20-200mm |
| Gas Consumption | 0.8MPa 300L/min |
| Power | 10kw |
| Voltage | 380V |
| Machine Size | 7600*5000*2800mm |
Components of the nail packing production line
Vibrating Feeding Hopper + Magnetic Feeder (including Vibrating Feeder) + Feeding Conveyor Belt+ Single Bucket Electronic Scale + Magnetic Machine for Organizing Nails + Automatic Nail Cartoning Machine + Weight Replenishing Mechanism(Vibration Plate).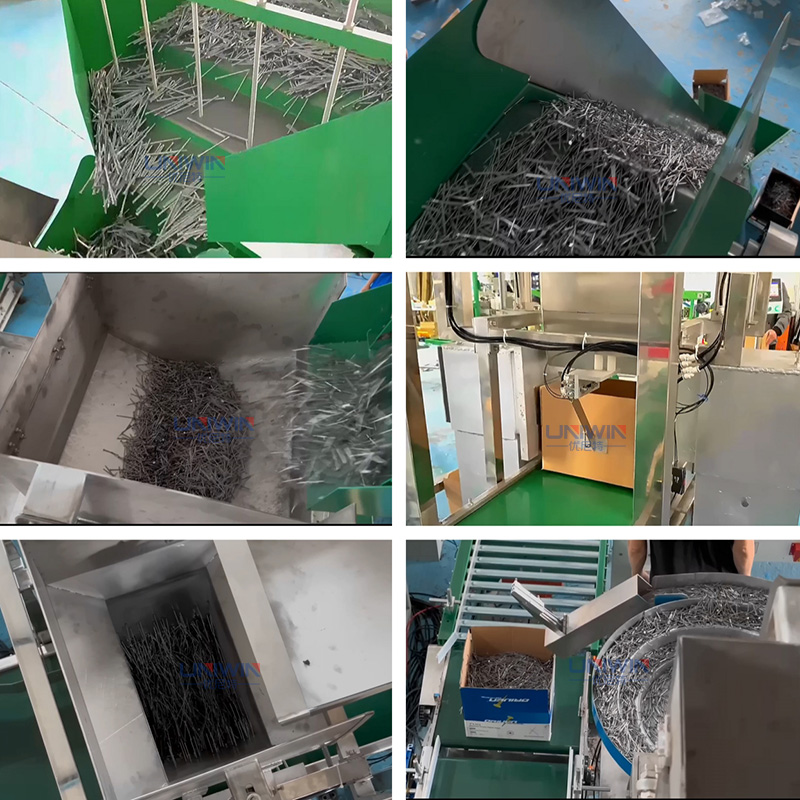 Nail packing process
Vibrating feeding hopper: The nails are first poured into the vibrating feed silo. The main function is to initially disperse nails, making them easier to be picked up by the magnetic feeder.
Magnetic feeder: It attracts nails through magnetic force, separates nails from the vibrating feed hopper, and then transports nails to the next step through vibration.
Feeding Conveyor belt: The conveyor transports the nails from the feeder to the single-bucket electronic scale. The speed and direction of the conveyor can be adjusted to meet the needs of the production line.
Single bucket electronic scale: The primary function is to measure the nail weight on the conveyor belt to ensure that the weight of each carton is accurate.
Magnetic Machine for Organizing Nails: The machine arranges the nails in a certain direction and position to facilitate packing.
Automatic nail cartoning machine: This machine automatically places the collated nails into boxes. During the packing process, the box packer detects the box's position to ensure the nails can be accurately packed into the box.
Weight replenishing mechanism: It will detect the weight of each packed carton. If the weight is insufficient, it will automatically add nails to ensure that the weight of each carton is within the specified range.
Finished products

Advantages of 2-25kg nail weighing packing machine
The packaging speed is about 2-10 cartons/minute, depending on the weighing specifications.
This machine saves labor to the maximum extent and completes the production process of feeding, weighing, filling, checking weight, and finished product transportation.
It is convenient to replace materials. Workers can directly empty the silo without adjusting the machine and set the production target weight on the control screen.
2-25kg nail weighing packing machine price
The nails weighing packing machine is USD 20000-30000. If you want to know the specific price, please contact us directly and we can give you a detailed quotation according to your specific needs.